... Was
amazing
. ENOUGH SAID.
I can't believe FMA's coming to an end soon T___T!! After many years of following it... this sort of feels... urmm... UNREAL.
I have no idea what I should obsess over once FMA is over... but all good things must come to an end, I guess.
*Sigh*
WHY CAN'T 'NARUTO' END INSTEAD? LOL. NO ONE CARES ANYMOREEE
EE KISHIMOTO OTL... in my case anyways. I'll always love 'Naruto' before the time skip though. But ever since the time skip, Naruto has been going downhill..............
ANYWAYS!!
HOMG.
OH NO YOU DID-N'T ALPHONSUUUUUUUUUU !!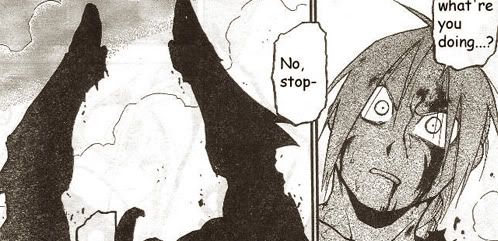 But I reckon he'll be fine. I have faith in Arakawa sensei (Y) I never doubted her ability to play with people's feelings (such a cruel mangaka she is LOLOLOL) especially after that time where everyone supposedly drops dead. X'DD
OH MAN.......... BUT ED ON THE OTHER HAND... WHAT WILL HE SACRIFICE? ASKJSADJH! -dies from anxiety-
Okay, despite what had to be done to get this: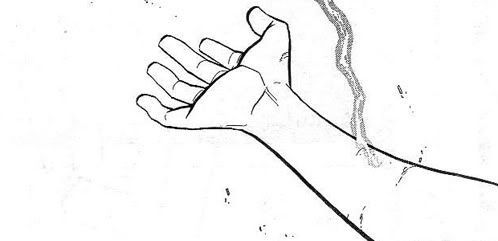 Um. I fan girl'd. -SHAME LOL-
WHERE'S YOUR SMEXY AUTOMAIL THAT WINRY M
ADE FOR YOU ED?? LOLOL! 8'D OH WELL , FLESH IS GEWD.
But lol, I don't think it's a gift to keep... BUT THEN AGAIN, WHAT DO I KNOW?? :'D
Hiromu Arakawa just keeps you guessing OTLll Quite torturous, really (but that's what everyone likes about FMA!) I want next month to come soon... but at the same time, I don't. I'm REALLY tempted to NOT read the last chapter, just to leave myself hanging-- I don't want FMA to end!!
*Currently in denial, that her most favourite manga/anime that she has obsessed over for so long is ending soon....*
- ANGSTY FAN GIRL SOB -
Wahhh, I love Greed ;__; I don't want him to go down like the rest of the homunculus crew: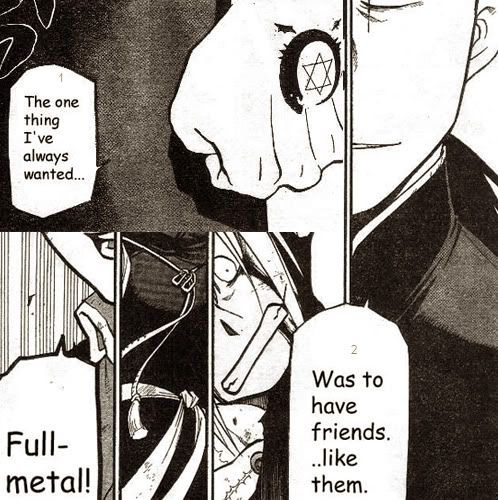 LOLLLLL! Ed gets me every time when he does this pose * 3*b :
*Tries to find a comparison pic LOL GAHH*
(Couldn't find it. T___T )
No matter how busy I am, I'll definitely find time to edit a mmv that will basically sum up my total love for FMA (Y)(Y)

A QUICK SKETCH BEFORE I RUN OFF TO CL
EAN MY MESSY ROOM!! It's always so messy after exam periods. XD
(It's FREEZING here!)

Current Mood:
anxious
Current Music: All on our own - Midnight Youth